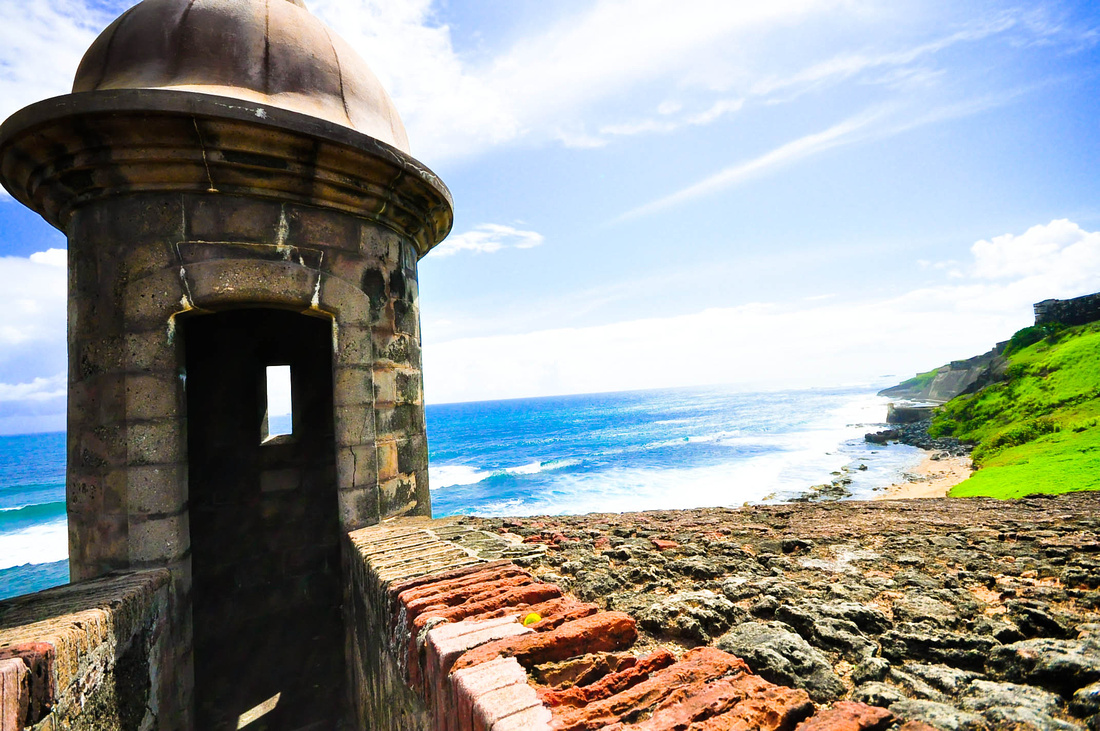 Sitting majestically along the outskirts of Old San Juan are the remnants of a beautiful Spanish fort known as Castillo de San Cristóbal, a reminder of Puerto Rico's Spanish roots. As one of the largest forts built in the Americas by Spain, San Cristóbal rises 150 feet above sea level and took nearly 20 years to build (1765 - 1785). Located in the northeast corner of Old San Juan, San Cristóbal is the first point of interest most tourists will visit, since it's conveniently located near the entrance. Also, there's a trolley stop located near the entrance for folks who want to explore the other famous fort, El Morro, which guards the northwest portion of the city, and don't want to walk. While El Morro fortress was known to guard enemy invasions by sea, San Cristóbal protected invasions by land.
San Cristóbal is clearly impressive with its myriad of levels that make the fort feel more like a Spanish castle rather than a military fortification. However, it's technically a castle because of the "castillo" portion of its name. Outside the main entrance of the fort, you can wander around in a large field for a photo-op inside of the many garitas, a sentry box in which guards were stationed to keep watch for enemies. Luckily, we didn't have to wait at all for a shot by one of the garitas. Supposedly, one of the garitas is haunted by the ghost of a soldier who had fallen into the rocky cliffs below. After reviewing my pictures of the sentry box (see above), I was disappointed to find that everything was...normal. If you're familiar with the show, Ghost Hunters International, you'll find an episode where the crew visits El Morro and San Cristóbal and capture some eerie unexplained events on camera. Fortunately, nothing too creepy happened on our visit, although the extensive tunnels leading to the dungeons below the fortress were somewhat daunting. Since my son wanted to roam inside one of the darker tunnels that housed a number of dungeons, my husband and I followed him, but the air started to feel uncomfortable and oppressive. I don't know it it's the heat or the narrowness of the pathway, but I didn't like the feeling underground and only made it a few yards underneath before heading back outside for some fresh air. It was too dark to take good pictures and I didn't have my tripod, so we didn't stay underground too long.
If you head above the fortress, on its ramparts, you'll find exhilarating views of both Old San Juan and the Atlantic Ocean. We were able to see a cruise ship come into a dock in Bahia de San Juan (San Juan Bay) as well as other spectacular sights in the city. If you walk around the area, you'll also find the barracks were the soldiers used to sleep (picture no. 2) and the chapel where they attended religious services. There are uniforms and weapons on display, but what I enjoyed most was looking at the buildings and learning about San Juan's military history. For those who like guided tours, you can catch one offered by English-speaking park staff who are more than happy to offer intriguing stories about the fort. Also, visiting the fort is inexpensive; adult tickets (16 yrs. and over) are only $3 and children 15 and under are FREE. Hours of the fort are from 9:00am to 6:00pm, so take your time to visit. I would allow between 1 to 2 hours to fully explore the fort and its surrounding areas. Also, make sure you wear comfortable clothing and shoes, since the fort sits on a steep hill and its building encompasses a maze of tunnels and pathways that are steep and difficult to climb in slippers or heels.