Walking around in the humid San Juan weather is bound to make anyone hungry and thirsty, so one of the first things we did after sightseeing was to look for a place to eat. Our mentality in Puerto Rico was set on savoring the local fare, so we completely ignored restaurant chains and common fast food places (i.e., McDonalds, Subways, Burger King, etc.). Street vendors selling local food, such as bacalaitos (cod fish fritters), alcapurrias (fried green plantains with crab or beef), or empanadillas (turn overs filled with meat) were common, but we wanted to beat the heat and sit down inside a restaurant to eat. One of the locals we stopped to chat with recommended the Cafeteria Mallorca for local Puerto Rican cuisine and was kind enough to give us directions.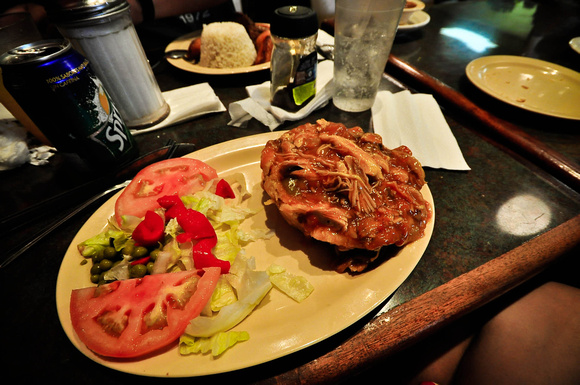 Located off the main thoroughfare and across the street from Plaza Salvador Brau, was the Cafe Mallorca; a little eatery frequented by a handful of locals and a few tourists like us. There's nothing fancy or outstanding within its interior, but one look at the place and you knew that you were in good hands when it came to Puerto Rican food. Most of the patrons were eating heavy meaty meals and sandwiches, so we figured we'd follow suit. Glancing at their menu, you were given a choice of lunch or breakfast items to choose from, depending on the time you arrived. We came in around 11:30, so I was surprised that they were still serving breakfast. Our waiter gladly handed us the lunch menu and gave us a few choices for local food. I ended up with the chicken mofongo (picture no. 2) and side salad. The mofongo didn't disappoint; it was stewed chicken drenched over a thick crust of crushed plantains, chicharrones, garlic, and bits of meat. The chicken stew contained shredded meat with tomatoes, beans, green peppers, and a mild salsa-spice sauce that was incredibly delicious. Being a true Asian, I wished I had ordered a side of rice to go along with it, but after a few bites of the mofongo, you'd want to rethink that. The mofongo is enough to keep your belly full for at least 4-5 hours. I think I finished 60% of it.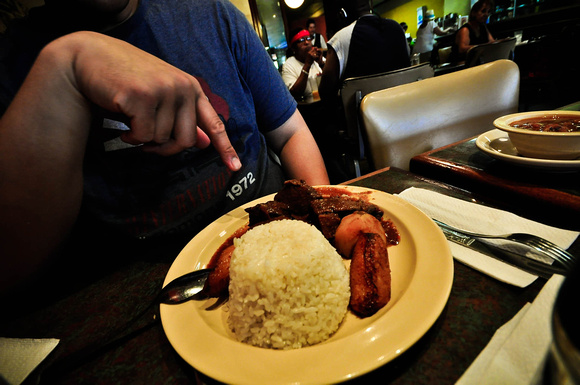 My husband ordered the carne guisada (beef stew) that also came with fried plantain bananas with a caramel glaze over them. His order also came with rice and red beans. Since I'm the official food taster, I sampled his dish and found that the beef was slow cooked and tender with the pieces falling apart in my mouth. I'm not sure how they cook their food at Cafe Mallorca, but I can just imagine that everything is braised or set in a pot for hours, because the meat is incredibly tender and flavorful. Like other local restaurants in Puerto Rico, we were served warm toasted bread while we waited for our meals and offered coffee and desserts afterward. Cafe Mallorca includes a bakery, but because we had stuffed ourselves silly with food, our bellies didn't have enough room for the sweets. I do regret not picking some up, even to bring back to our hotel room, but I promised that we'd eat back here on a future visit. Like me, my husband couldn't finish his food, so we sort of languished at our table waiting for the food to slowly digest before resuming our exploration of Old San Juan. By the time we finished, it was getting closer to 1pm, so the restaurant was beginning to get crowded.
In the end, I would highly recommend Cafe Mallorca for its excellent and authentic Puerto Rican cuisine, quick service, and prices. The food is relatively cheap, compared to other restaurants in the area, and they are fast. I mean, you're not going to be waiting for more than 10 minutes for your meal, but they also don't rush to give you the check once you're done. A quick nod to the waiter will set you on your way. My mofongo lunch just cost $8 USD while my husband's was around $9, so you can easily splurge on dessert or coffee afterward. After our meal, we decided to walk around Old San Juan a little bit more before heading back for an afternoon siesta. A heavy meal at Cafe Mallorca will easily put you to sleep.