Just steps from our hotel lies Condado Beach, a stretch of waves, surf, and sand overlooking the rough Atlantic waters. Because the Condado neighborhood in San Juan is an eclectic mixture of ritzy hotels, casinos, and choice condominiums, it's no surprise to find the area filled with tourists (such as myself) and local residents who own homes in the area. The crowd was comparatively young, at least compared to my husband and I, but I imagine that San Juan attracts young college students on a weekend getaway and newlyweds cavorting about during their honeymoon. There's also a handful of families with young children, so our son had a number of kids to play with on the beach as well as the hotel's pool.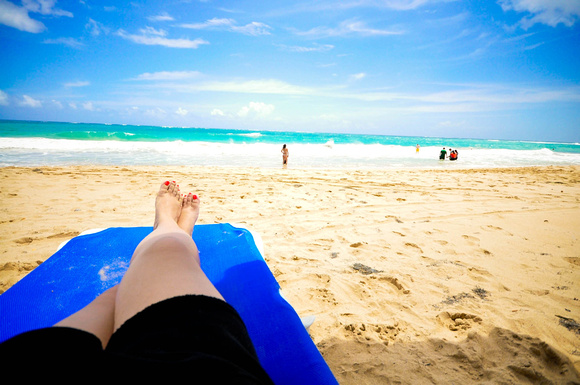 If you do stay at a hotel that has access to the beach---take advantage of it. One day, we decided to spend our morning enjoying the beautiful warm weather and the beach, so we armed ourselves with some sunscreen, hats, and water. Since the Marriott has its own beach staff, they will set up your chair and umbrella at the location of your choice free of charge. They even have servers who come by to take your drink orders and will come back with a cool beverage to quench your thirst. While my son and husband walked along the length of the beach (and its waters), I just lounged about lazily underneath the canopy of my umbrella. Even though we were out on the beach around 10am, the rays are brutal. I spent most of my time watching the waves and the people enjoying them.
Since I brought my camera with me, I did manage to wander off into the edge of the water for a few shots of the waves and outcropping of rocks (pictured above), but the fear of tripping over something and dropping my camera made me hurry to go back underneath the relative safety of my umbrella. Condado Beach isn't really crowded, but on nice days like this, prime spots are quickly taken so most people tend to head out early to take them. I just wanted to make sure I grabbed some good shots with the camera before really kickin' back and enjoying the surroundings. Oh, and I do have to mention the eye-candy of gorgeous Latin hunks in the area---another great reason to take the camera to the beach!