Because one day's visit wasn't enough for Viejo San Juan, we headed back one morning on the weekend, which was, to my surprise, wasn't nearly as crowded as I thought it'd be. Most of the tourists were streaming in and out of the buses and taxis heading towards the cruise ships by the dock and left other parts of the city alone. Because we were there around 10am, some of the more popular destinations weren't crowded and I managed to drag my husband and son out to Paseo de La Princesa, a beautiful promenade located in the southwest portion of the old city. Unlike the forts and some of the museums, Paseo La Princesa is free and open to the public so you can wander around at your leisure.
Paseo de La Princesa hugs the outer portion of Old San Juan's fortifications (part of the city's defenses in the past), so it's a lovely and picturesque promenade filled with large Spanish Oaks dripping with moss and highlighted with a handful of sculptures and statues. Crowning the walkway, you'll run into the beautiful Raices Fountain, which was designed by Luis Sanguino and depicts the cultures that make up the pride of the Puerto Rican heritage; the mixes of Spanish, African, and Taino Indian ethnicity are represented by the figures on the fountain being led away out to sea on a horse and jumping dolphins. We were told that it was best to view the fountain at sunset, but if we hadn't brought our son with us, that would've been our ideal time to visit. Still, the fountains are quite mesmerizing and, if you go early enough, you can take your time snapping family-album-worthy shots in front of the sculptures. Also, you'll find some tall sculptures resembling large pointed spikes pointed upward, but I wasn't able to discern their meaning or find the the plaque denoting its significance. I assume it had something to do with defending the city from various European invaders, but I could be wrong.
If you do plan to walk Paseo La Princesa, walking shoes (or sandals, if you must) are required. Because I thought I was going to look somewhat fashionable in my pictures, I opted for flat, gladiator style sandals, which was such a horrible choice to walk in. My feet had gotten all sweaty during the walk, so I nearly slipped a few times climbing the steps and inclines to get pictures of the guard house (pictured above), which is posted on top of a small hill with gorgeous views of the bay. I had to climb a few steep steps up a mound past La Fortaleza, which is the Governor's Mansion) to crawl halfway up on top of the bricks to get a "good shot," which I eventually ended up with. If my husband had brought his cellphone, he would've captured a very unflattering shot of me sprawled on top of the structure with my legs barely anchoring the edges and sweating profusely for my unconventional efforts. It was all done in vain, for when we walked around the other side of the garita, we found narrow steps that led towards it. Still, I wanted this angle for a picture and not one directly in front of the guard house, so it's a win-win situation for me.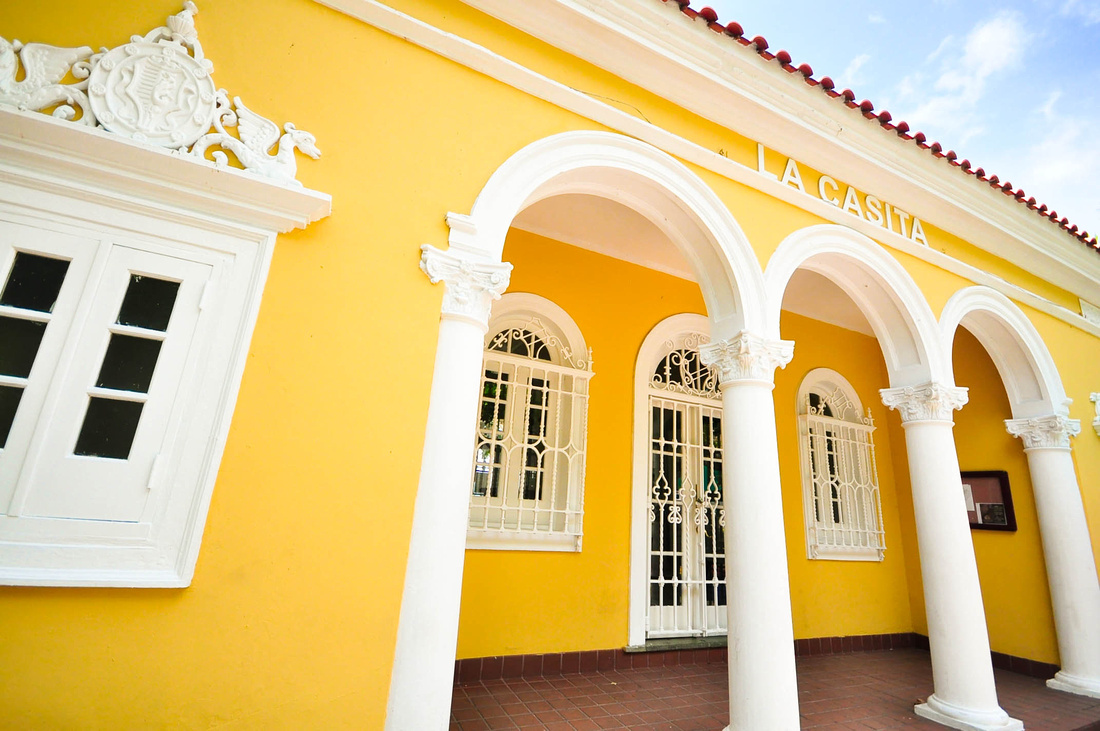 After heading through Old San Juan's famed gate, we decided to head back towards the more touristy parts of Old San Juan, which is filled with brightly colored buildings and street vendors selling everything from gigantic pork rinds to flavored shaved ice. Since my husband is a little picky and paranoid with the sanitation and cleanliness of street food, I was only able to sneak a bite out of one large bacalaito, which earned me a sour look from the husband as I tried to feed it to our son. We walked around the narrow streets in the area and marveled at some of the prettier buildings in bright Caribbean colors. The only thing I do regret about visiting Paseo La Princesa was that we didn't visit during the evenings, when local musicians are out and playing along the promenade. Our nightly pursuits usually involved trying to find the best places for local grub.
In the end, we did enjoy our last tour of Old San Juan and I was able to walk away with plenty of pictures to remember this special part of the city. For those with children, it's a fantastic area to let the kids walk around and tire themselves out, which is what happened to our son. An unforgiving combination of the heat and humidity was enough to knock him out cold for a (rare) 3-hour nap, so if you do bring the little ones to San Juan, slather some sunscreen on them and let them run their hearts out at the promenade.