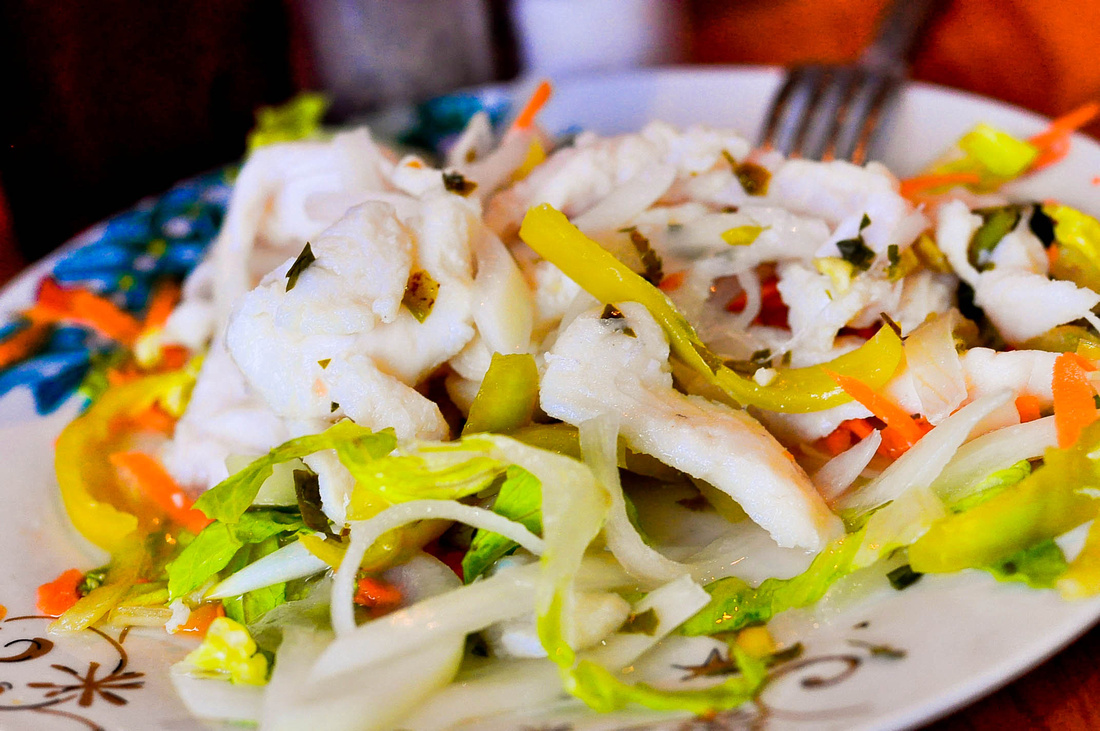 Foraying into one of the more congested nightly scenes we'd ever encounter in San Juan, one of our routine dinner rendezvous turned into a quest to find a restaurant that wasn't overly crowded. We found that Friday nights in the Condado region was slightly chaotic with drivers impatiently honking their horns at the slow traffic and pedestrians trying to figure out how to cross on to the other side of the street. My husband almost suggested having dinner at one of our hotel's restaurants, but even those were already crowded with people actually lining up outside the doors waiting on reservations. Instead, we headed out into the streets of Ashford Avenue to look for something that 1. Wasn't packed with tourists 2. Easy on the budget 3. Local, if possible.
Most, if not all, the eateries we passed were brimming with a combination of hungry tourists and locals, but we did spot a nondescript building with a simple sign that read "Cafe del Angel" on its front. It wasn't glitzy or had the ambiance that beckoned to a budding foodie, but I figured that if it served local Puerto Rican cuisine, it'd be good enough. Certainly, with my stomach talking to me through vicious growls, I didn't have a chance to be really choosy. We also had to consider food options for our slightly-picky 3 year old son whose palate didn't include anything too exotic. Cafe del Angel is just a 15 minute walk down from the Marriott and located right across the street from a number of upscale dining establishments, but it's a far cry from its more glitzier (and pricier) counterparts. The interior had a bar with cheesy tiki decorations and numerous tables filled every inch of available space in the small interior, making the eatery a claustrophobic's nightmare. Outdoor, there's a few patio seating available for customers who prefer to wine and dine while listening to the din of traffic, but we opted to sit inside. Our server, Mario, sat us by the window where I had a perfect view of the people who were ready to experience San Juan's night life.
We started our dinner with a fresh fish ceviche appetizer with some toasted, buttered bread rolls. The ceviche was absolutely mouthwatering with peppers, onions, carrots, and a lemon marinade that helps cook the fish. There's a little bit of sweet relish that takes the acidity off from the strong lemon taste, but altogether, the flavor was refreshing. Cafe del Angel has an enormous menu which includes numerous local Puerto Rican flavors. I wasn't sure what I would order, but Mario suggested that I try the Puerto Rican plate, in case I wanted to stick to basics. Originally, I wanted the shrimp mofongo, but after eating mofongo nearly every day during our stay there, I opted for something different.
The Puerto Rican plate included slices of pork tenderloin smothered with a thick peppered gravy, fried plantains, rice with chick peas, and pasteles---similar to tamales, but with a thinner consistency, and includes filling inside. As you can see from my snapshot, the Puerto Rican plate is enough to feed 2 hungry people; I couldn't even finish a third of my entree and had to bring the leftovers back to our hotel. The pork was tender and very flavorful along with the gravy and went well with the rice. The plantains were caramelized with brown sugar and the pasteles were somewhat bland, but adding some hot sauce made its taste infinitely better. Overall, the portions were definitely good for the price of dinner (nothing over $12 USD) and they have enough on their menu for even the pickiest of eaters. I would suggest that you order lightly for an appetizer since they do bring large plates to the tables. Either order a large appetizer or a small dinner or vice versa.
If you enjoy people-watching, then Cafe del Angel fits the bill; they have seats by the windows where you can look at the locals pass by or, even better, sit outside with them. Unlike restaurants in the U.S., they don't rush to get you in and out of their place, so feel free to sit back, relax, and enjoy your food. I didn't try any of their alcoholic beverages, but I was told that they're fairly inexpensive and great, compared to other bars. Cafe del Angel is also kid-friendly, as they've got a good number of things on their menu for children. Overall, I would recommend the restaurant for a combination of its prices and menu variety.