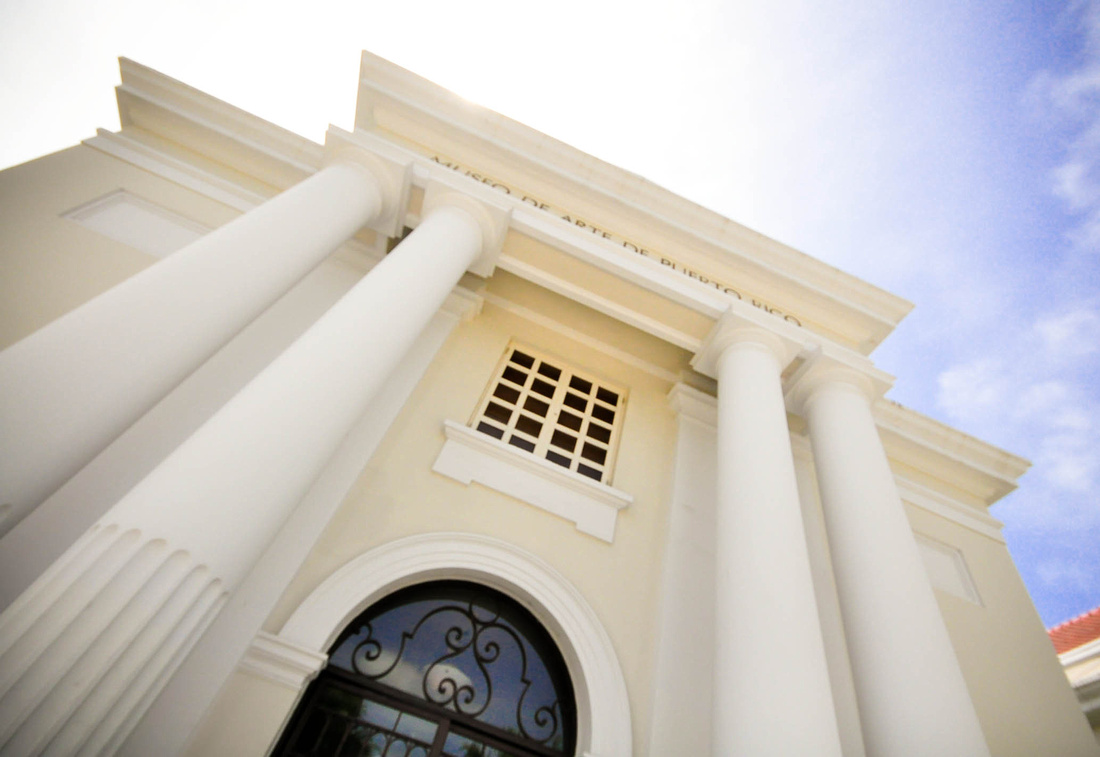 One of the unique places we visited in San Juan included the Museo de Arte de Puerto Rico, a relatively modern building housing some of the nation's best art work. The museum, which is also known as MAPR, contains works in a beautiful neoclassical building about 130,000 square feet with two adjacent wings for extra room. Built in the 1920's by architect William Shimmelphening, the museum's simple and clean design stands out amongst the urban atmosphere and is quite beautiful. Also, MAPR is easily reached from the Condado area by a 5-minute cab ride or a 10 - 15 min. walk to the Santurce area of the city.
The interior of MAPR is broken down into three wings or sections; one wing housed an exhibition from the 17th century, particularly of the artist Campeche, another featured the personal collection of Angel Ramos and Tina Hills, while another showcased works from more modern artists. Split into 4 levels, the museum also includes an interactive art section for the children, so that they can experience art firsthand by painting masks, drawing on a large house made out of chalkboard, and playing with a moving art maze. Like many art museums we've visited, photography (flash or no flash) is prohibited, so you're limited at what you can put on film. With security guards and cameras surreptitiously placed all throughout the gallery, it's a little hard to grab a shot of a favorite painting. However, despite the camera-ban, you are allowed to take pictures in the large, open hall in the east wing atrium (pictured above) which is dominated by a five story stained-glass window designed by Eric Tabales, a local San Juan artist. It's magnificent and quite dizzying to stare at the glass from the main floor, so it's best to move up to the 3rd floor to get a better glimpse. Most of the art work we looked through was a mix between modern and classic, but the different art media represented made it a unique viewing experience for our 3 year old, who enjoyed the 3D art gallery the most.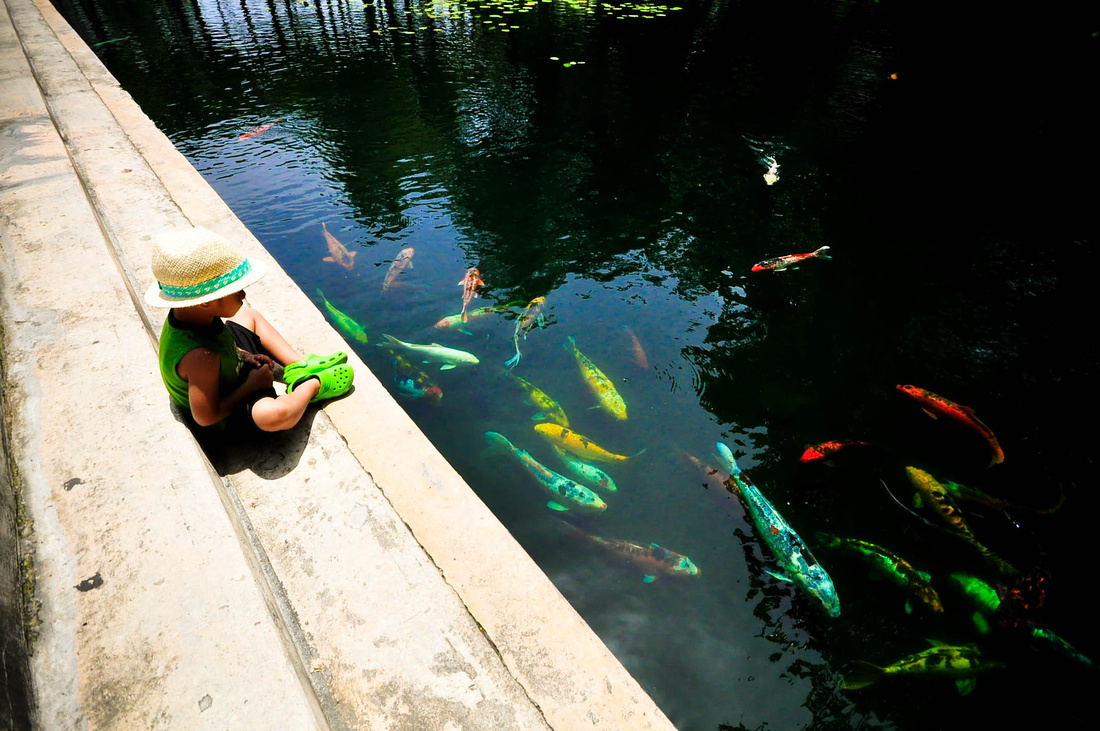 Behind the MAPR lies a 2.5 acre garden filled with over 365 natural ecological species of flora and fauna native to Puerto Rico. Stepping into what seems like a natural miniature rain forest in the middle of the city, the garden provides a lush canopy of trees to keep you shaded from the midday sun. My son loved the pond filled with a number of colorful Koi carps milling about nearby, thinking that he had treats to throw at them. Also, the garden is home to a few large and unique sculptures, some which are painted in a vibrant red color, to maintain contrast against the natural hues of the surrounding area.
If you plan to visit MAPR, allow at least an hour and a half to explore the galleries and experience the gardens in the back. When you're done, you can grab a bite to eat at their restaurant, Laurel, which serves an eclectic mix of Latin and Caribbean cuisine in an atmosphere decorated with vibrant and cozy colors. We didn't eat at Laurel, but I did have a chance to peek inside the restaurant and take a look at their menu and prices. Prices are a little on the steep side, with appetizers ranging between $12 - $19 USD and entrees from $25 USD and up. It's another reason why we decided to head elsewhere for lunch. Still, MAPR is highly recommended and admission will run adults $6 and children age 5 and over $3. Kids under 5 are free. Also, be aware that you won't be able to bring your bags or purses in the museum, so they'll have to be checked in at the main entrance. Cameras are okay, as long as you adhere to the rules and don't try to sneak in shots from their galleries. Pictures in the east wing atrium and gardens are allowed.