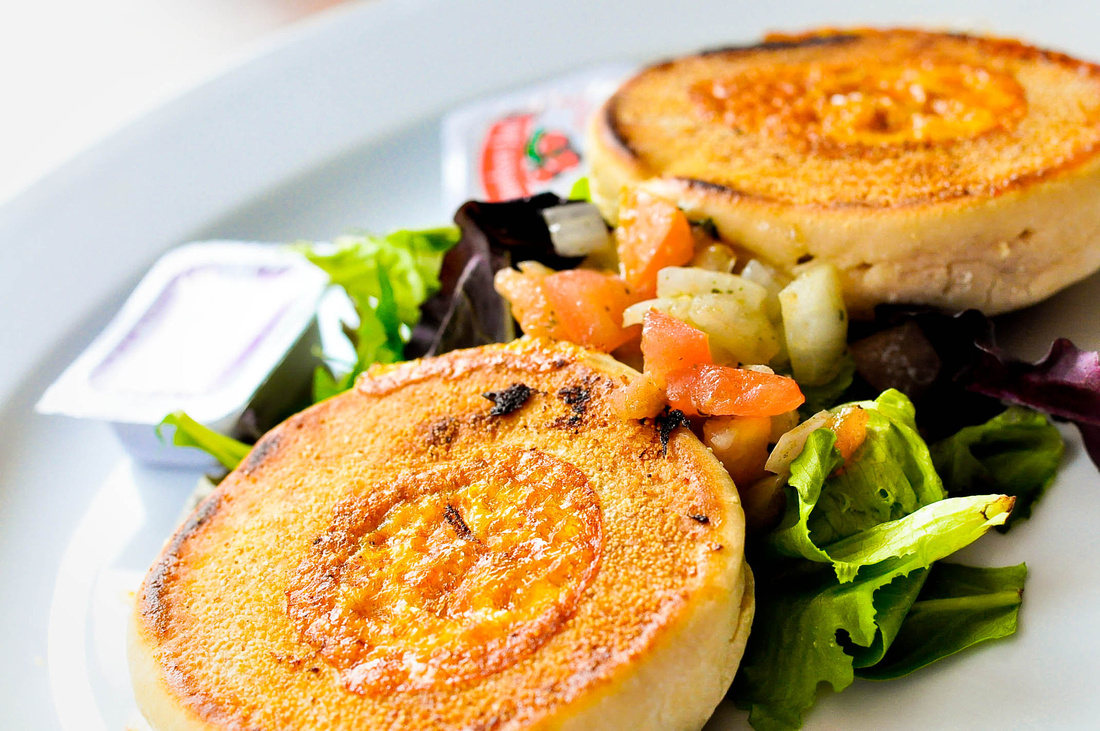 One of the places we ate for breakfast was Di Zucchero Restaurant & Lounge, an Italian eatery located directly across the Marriott hotel. Conveniently placed between the Starbucks and the Häagen-Dazs ice cream parlor, it's a perfect choice for breakfast if you're not in a hurry and would like to enjoy a nice ambiance. Since we landed in Puerto Rico, getting up before 9 am was almost impossible, so finding places to eat breakfast around 10 was a challenge. Even at the hotel, the breakfast buffet ended at 10, so you were forced to eat out, which wasn't a problem due to the higher meal charges at the Marriott. We budgeted about $25 USD for breakfast each day for a family of 3, but most of the time we were under our limit.
What I immediately liked about Di Zucchero was its decor and interior. Outside on the patio, there were bright red chairs and a table facing the street, which made it a prime spot for people-watching. One end of the patio had large antiquated chaises big enough to seat 3 comfortably so that you and your friends could enjoy the meal al fresco. Unfortunately, it was in the upper 80's by the time we made it to Di Zucchero and, without outdoor umbrellas, I wasn't in the mood to eat in the heat and humidity. That was one thing I found odd about the restaurant---no umbrellas to shield patrons from the heat.
Overlooking the menu, there really wasn't a large selection of breakfast choices, but they had pancakes for our son, omelettes, crepes, and other healthy selections. Well, that and everything was made fancier by putting it in Italian. It was one of the few places we found that served salads for breakfast, but since I wasn't planning on going semi-vegetarian on our trip, I overlooked that section. Instead, I chose to have their muffins a la eggs Benedict-style with a small salad on the side. It was good, but not enough to fill my belly, so I helped my son finish his 2 blueberry pancakes. On the other hand, my husband had ordered an Italian-style omelette that came with two pieces of toasted bread. I wished I had ordered something a little more filling.
Di Zucchero is a restaurant and lounge, so at night it was common to hear music and see a crowd gathering outside or hanging out at the extra space on the second floor. In the mornings, the restaurant seems much calmer, lazier, and less chaotic that its nighttime alter ego. The waitstaff, although limited during the day, was a little on the slow side, and it took over 30 minutes for our breakfast to be served. Service, on the whole, in Puerto Rico is much more relaxed and slower than the U.S., so if you visit, make sure you have plenty of patience. Di Zucchero seemed slower than most, but don't mind the wait---the food is worth it. Also, expect slightly higher prices for breakfast at the restaurant and less choices for meals. I'm not sure what their lunch or dinner menu consists of, but breakfast tends to be more on the lighter and healthier side Also, you won't find heaping mounds of food here; Di Zucchero portions are much smaller, but the price doesn't reflect that. If you'd like a heavier breakfast, any of the local eateries, such as Danny's (previously reviewed), serves excellent food.