The one day it rained during our week in San Juan, we decided to check out Plaza Las Americas, one of San Juan's largest shopping centers. Instead of being holed up in the hotel room, the concierge I spoke to recommended the mall or a few museums nearby. Complete with a large indoor movie theater showing the latest stateside releases, a number of eateries, and a number of unique stores (some found only in Puerto Rico), I was more than happy to check it out. The mall opens pretty early at 9:00am and closes at 9:00pm, so there's more than enough time to start on the retail therapy. Just bring your wallet and appetite, in case you're up for something to eat indoors.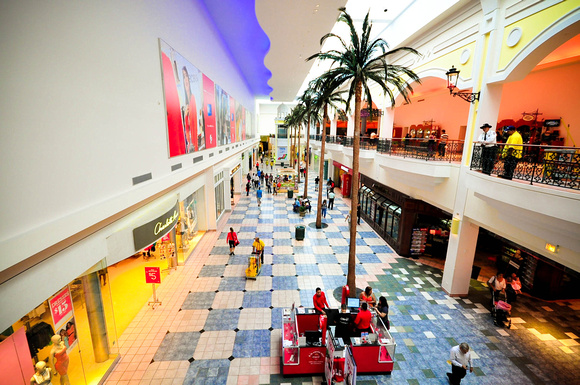 What I particularly liked about the mall was its unique moving sculptures in the main drag that served as the focal point of the area. My son was completely fascinated with the manatee with its moving arms and the people tossing pennies in the fountain. Walking around the three levels of the mall, you'll also find beautiful colored hanging sculptures and decorative mosaics on the floor. The interior is wide, spacious, and adorned with bright Caribbean colors to uplift your visual senses. It isn't drab or monochromatic like some of the malls I've visited in the U.S. As for its stores, you'll find some favorites such as Sephora, Gap, Banana Republic, and Build-A-Bear Workshop for the kiddies. However, it's worth looking at some of the local stores such as Pequena Ola, Ilori, or Valija Gitana. Also unique to Plaza Las Americas are some of the fast food eateries located in different points of the shopping center. Instead of having one major food court, a number of vendors are scattered in a few of the wings or galas, making it more convenient for the hungry shoppers who don't need to move towards one area for food. We ended up at the Deli Cuisine for some fast home cooked mom and pop Puerto Rican food, just because I wasn't tempted to try anything that resembled food from back home (i.e., pizza, Mexican, Japanese, American, etc.).
Plaza Las Americas is certainly a worthwhile shopping excursion, but don't forget to support the local boutiques and stores outside of the shopping center. If you need to pick up souvenirs, I would skip shopping at the mall, since mall prices are comparable to those back in the States. Also, I didn't recall seeing a store dedicated to just Puerto Rican souvenirs, but if you must shop for something, definitely spend it at one of the non-U.S. brand shops. After all, you can get that same T-shirt at the Old Navy store back home, so you're better off buying that unique sunglasses from Ilori. A big plus to the mall is its central location in San Juan and accessibility for the tourists; there are taxi stands outside the main area and easy bus routes to take you to and from the hotel. The cab fare from the Condado area to Plaza Las Americas will cost you $10. Also, try to grab some fresh fruit from the vendors selling them, since they're absolutely delicious.