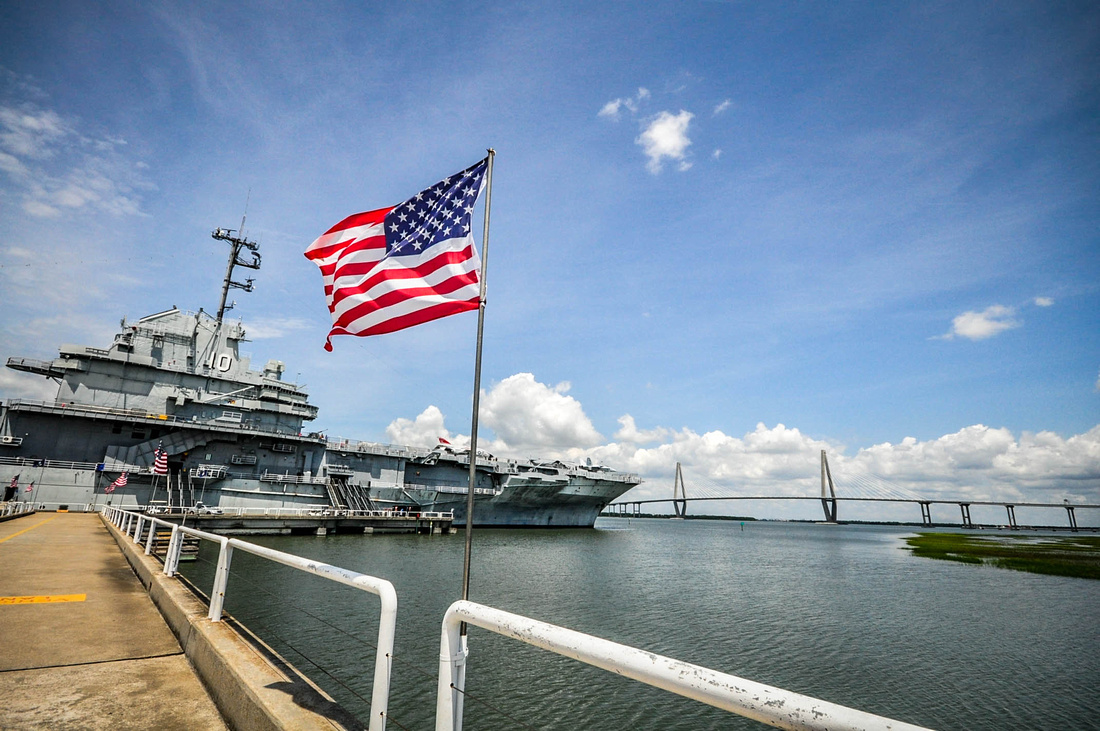 For nautical and military buffs, a stop at the USS Yorktown (CV-10) museum in Mount Pleasant is a must see, as tours aboard Naval vessels are hard to come by for civilians. At 888 feet, the aircraft carrier is tiny by modern day standards, but it doesn't make it any less impressive. As a naval veteran and Navy brat, I'm always partial to sites and places connected to the Navy and couldn't resist dragging my husband and child to visit this awesome aircraft carrier perched on the waterfront of Charleston Harbor. Like most extensive tours, a good pair of walking shoes and comfortable clothes are needed. Ladies, if you plan to visit, think about wearing shorts or pants, as the strong harbor breezes are more likely to show off your unmentionables to the public.
Inside the hangar deck, you'll find rows of aircraft used during different war periods, particularly during WWII, but you'll also find large weapons used to shoot down enemy planes and defend the Yorktown. What our son especially enjoyed was a chance to climb into an open cockpit of an F-14 Tomcat and pretend to shoot down imaginary planes as he played with all the buttons on the console. Also, you'll find other planes such as the N-2 Stearman Kaydet, SBD Dauntless, TBM Avenger, and others preserved in the hangar bay. Walking through the interior, you can watch a short film on the aircraft carrier, view memorabilia from WWII, and visit the Medal of Honor Museum, also located on the hangar level. If you go up one deck, you can also check out their control room with the sonar equipment, but since the room is cloaked in a red light, it's sort of hard to take good pictures (unless you use flash, which I didn't).
Up on the flight deck, the Yorktown keeps a number of more modern aircraft, such as the F-4J Phantom and the F-18 Hornet, but it's most likely due to their size and its relation to always being parked on the flight decks of aircraft carriers. For those afraid of heights, I'd suggest staying away from the edge of the deck, as it's pretty easy to get vertigo or topple over the edge due to its short barriers. What I do like about the Yorktown is that they are handicap accessible and those needing assistance to reach other parts of the ship can use the designated elevators to check out different parts of the museum. I enjoyed walking around and checking out the airplanes and helicopters, but the view from above the flight deck overlooking the Ravenel Bridge and the Charleston Harbor were spectacular. After your walking tour, you can head back down to the hangar bay and grab a bite to eat at their snack bar for light snacks or head one deck below to the CPO Galley for a hot meal for $8.50.
Sitting beside on the opposite pier of the USS Yorktown, you'll find the USS Laffey (DD-724), an Allen M. Sumner class destroyer commissioned in 1944. Considering its age and the battles it had gone through (22 Japanese bombers and Kamikaze pilots tried to take her down), it's amazing to see that she's very well preserved. Just behind the USS Laffey, you can visit the USS Clagmore, a Balao-class submarine that served 30 years during the Cold War. It wasn't used during WWII, because it had been commissioned after the war had ended.
While walking around USS Yorktown, I was left wondering if they did ghost tours at night, but I was told by one of the guides that they didn't and special permission would be needed for overnight stays on the ship. Charleston has enough ghost tours in the historical district, but it would be fantastic if the Yorktown provided a bit of nightly fun for paranormal lovers. If you do plan to visit the museum, it's open daily from 9 - 6:30pm and there are discounts for military members. Adult tickets are $18, Senior citizens and military members are $15, children ages 6-11 are $11, and free for 6 and under.
For more info visit their website: http://www.patriotspoint.org/