Walking around Charleston trying to decide what to eat is a foodie's dream and nightmare; there's so many great establishments to choose from and that's where you'll run into problems. After parking in a garage and walking up and down the popular Meeting Street, my husband and I just couldn't decide on where to have dinner. There's so many unique individual restaurants, you're stuck trying to figure out which menu has the best entrees at the most reasonable prices. Of course, Charleston has its fair share of upscale eateries, complete with patrons dressed to the nines, but we were looking for something more casual and kid friendly, as usual.
Located on Meeting Street between Market and Cumberland Streets, you'll find Toast Restaurant, a homegrown establishment that proudly displays the NY Times clipping of its rave reviews. It's not very showy, in fact, but rather unpretentious with its simple green awning and chalkboard listing the specials of the day. When we walked in, we were warmly greeted by our host and given an explanation of some of Toast's signature dishes. What I really liked about the place was the staff's friendliness and their "it seems we've been friends for a long time" kind of attitude. I don't know if it's just Charleston, but after living in South Carolina nearly 3 years, I can attest to the state's well-deserved raves on Southern Hospitality. Charleston, it seems, just takes it to a whole new level. In a good way.
Perusing through Toast's menu, you'll find a number of Lowcountry favorites (shrimp and grits, old fashioned oat meal, and eggs Benedict Charleston style) and other items to make your mouth water, such as panko encrusted crab cakes, fried green tomatoes, and blackened catfish. For my starter, I just kept it simple with a light tuna salad on greens and ordered their crab cake sammie for dinner. My husband chose to get their grilled smoked pork chops, but skipped the appetizer. Our son had the homestyle mac n' cheese from their children's menu. I didn't get a good shot of my entree, but I can tell you it was as tasty as it sounds. The blue crab cake was pan seared and placed on kaiser rolls smothered with a peppery remoulade. Delish. Toast certainly knew how to impress me on a first "date," it seemed.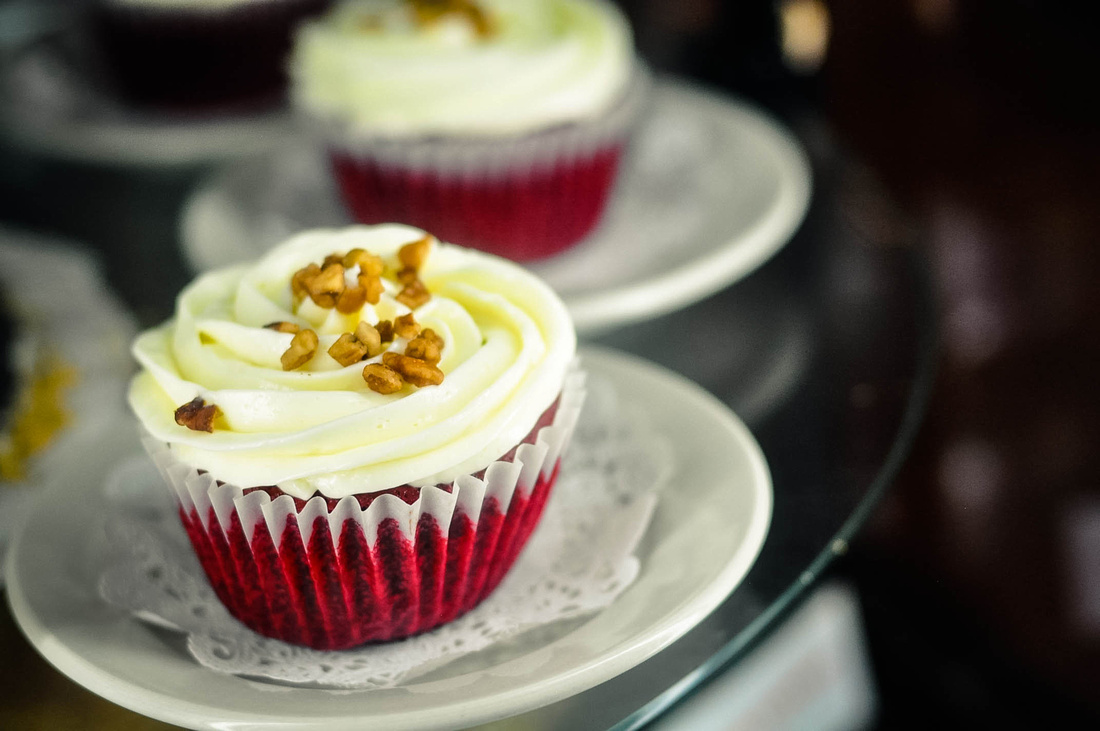 After stuffing ourselves silly with dinner, I'm surprised my husband and I both had enough room to try Toast's delectable desserts. Placed in a refrigerated turn-style, you can drool over the sweets placed on display. They had enough desserts to put cavities into all your teeth, and if you've got a sweet tooth like my husband, you'd probably want to order a slice of every pie they had on the shelf. I, for one, don't have much of a sweet tooth, but it didn't stop me from grabbing one of their red velvet cupcakes with toasted walnuts on top. It's creamy, light, and sweet enough to satisfy your sweet cravings. Perfect ending to a wonderful dinner. Absolutely no complaints at Toast's that night.
Although we didn't come for lunch or breakfast, Toast is known for having one of the best breakfast places in town and offering bottomless Mimosa's for $10 that lasts all day. Now, I don't think anyone would want to sit in a restaurant all day sipping on Mimosa's, but if you happen to visit Charleston with a group of friends, then scoot on over to Toast's for their hospitality, food, and all around feel-good ambiance.